OMG! OMG!!!!!!!! J.K. Rowling released the title of the 7th book today...of course, it wasn't without some hard work on my part (jk. [rowling]! I cheated.)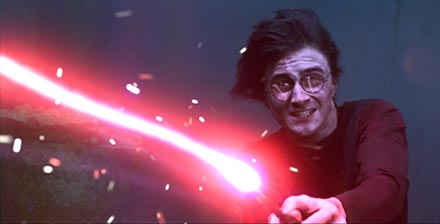 Watch where you're pointing that thing!
Anyway, she released the title via a hidden game of Hangman on her site,
JKRowling.com
. You can find instructions on how to cheat your way through to the game
here
(scroll to the bottom of the article).
Or I could just tell you what the title is. Okay, I will! ::giggle:: It'll be called
Harry Potter and the Deathly Hallows
. The last word in the title, not to be confused with "gallows" means "n. a saint or holy person" (dictionary widget, what, what!). What will this book be about? When will this book come out? We'll just have to wait and see...or kidnap Rowling! Who's with me?! Kfine.
I'm spending my Christmas playing Wizard Chess,
Justin