I'll be honest, I haven't really been keeping up with
America's Next Top Model
news
. You'd think that there wouldn't be much to keep up with, considering the new season doesn't start until March 8th...but you are so wrong. So so wrong. Let the Top Model community educate you...
To start off,
the website
for the new season has been launched. These promo-photoshoots are always craptastic. Hey, look! We're fairies!
Mystical. Magical. Meeesmerizing
.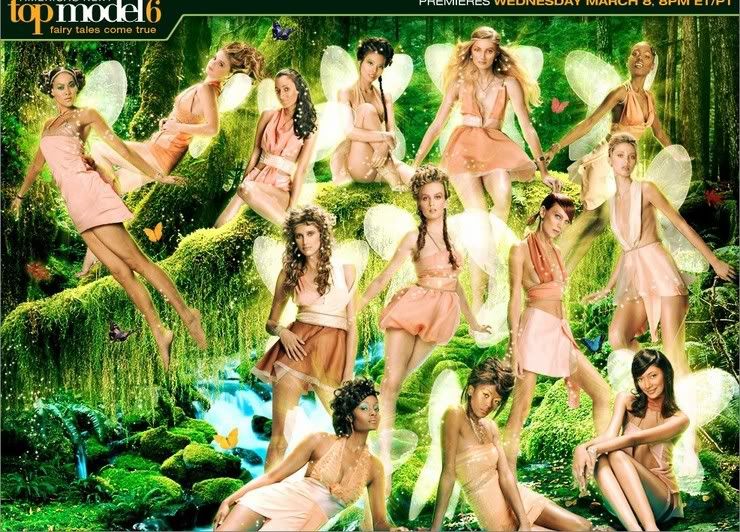 Click for better view.
Surprise!
ASIAN'D
. The Top Model community is very excited about her, even if
April
was a halfie. Apparently, this is a first for
ANTM
.
---------------------------------------------------------------------

Maybe you just watched Cycle 5 for
Kim Stolz
. Well, here are some familiar faces on screen, because I know most of you don't watch
The Tyra Show
. That's what the internet is for!
Reunited and it feels so good
:
Coryn Woitel
, the "sad" one, reunited with her biological father. She tries not to cry. He cries.
Bre
cries?

I'm Easy, Breezey, AND Beautiful
: Cookie-loving
Lisa D'Amato
tells it like it is. She says what's on everyone's mind, and Tyra shuts her down. Also, she discusses her relationship with
Cousin It
...and her lack of an alcohol problem.
I've been homeless a few times
: Surprisingly,
Ebony Taylor
remains the most professional and well-spoken in her interview. If you thought Ebony was just a catchphrase, you got it oh so twisted. The camera left out some amazing details of Ebony's life. This girl was the top of her class! And she had a birthday in a homeless shelter! Ebony's past isn't all too happy, but she has risen above all that. May I take a homo moment (
homoment
) to say, YOU GO GIRL!
Get Low
: This isn't a
Lil Jon
song.
Sarah Rhoades
discusses her battle with severe depression, including the lowest point in her life. Tyra gets some closure that she didn't make her more depressed.

Audience Participation
: Bre, Kim, Lisa, Coryn, Sarah, and Ebony are interviewed by the audience. Bre reps her hood. Lisa is compared to
Janice Dickinson
. Someone asks the girls a question about relationships. Bre starts to answer, but then Tyra takes over with her wisdom.
But have you seen this?!?

You Can't Date That!
: Sarah and Kim talk about their kisses. I don't really think I need to say much more about that. But...uh...there's an awkward moment where Sarah talks about what she'd do if she had the opportunity to date Kim.

Amy's Moment to Shine
: Tyra's producers travel to the foreign land of
Connecticut
. Kim's girlfriend,
Amy
, talks about her feelings on the matter. Girl love! Cute.
---------------------------------------------------------------------

ALSO...
Noted Fashion Photographer and Blogger,
Joe John