Squint.



If you look hard enough at this nearly microscopic print you can feast your eyes on the 23-year-old "beauty" that has stolen the heart of America's favorite British icon...
Yes. Of course I mean
Daniel Radcliffe
, otherwise known as the IRL (in real life) embodiment of
Harry Potter
.
EDIT:
Here is the full body picture.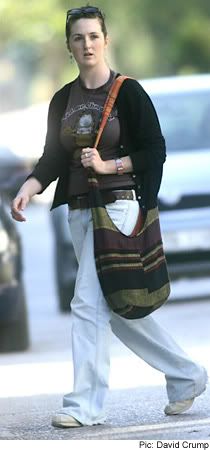 Her name is
Amy Byrne
. If you're in the
Daniel Radcliffe Appreciation Group
on facebook, you better get your guns ready!
For the full story, check out
this article
. Apparently, young Daniel travels quite far to "get (
his make-up
) done" by Byrne.
You couldn't tell little Jackie nothin',
Joe John