In the blogosphere we were all awaiting one moment...and then Britney had the baby. This left us horribly unsatisfied for one reason though: We didn't know the name.

Now, the news is in!
Preston Michael Spears-Federline
has made his
debut in the world
. And if you weren't quick to pick up on the initials...that's
PMS
. A half-hour later a check to
Pink
let's me know that this is a lie! The baby's
name is actually
Sean Preston Spears-Federline
. Damnit! I'm convinced they changed it because they were reading blogs that made fun of them for the first name.
_________________________________________________

With that said, let's move on...
HOLY FUCKING MOTHER SHIT! There's a new Harry Potter and the Goblet of Fire trailer and I literally got chills from watching it...I seriously can not even take how beautiful and intense this looks. Emma Watson is also too hot for her age.
__________________________________________________
Look who got a haircut!!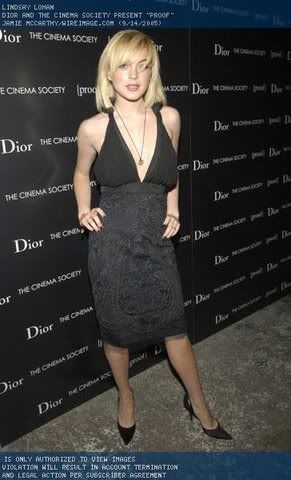 Lindsay Lohan is looking better these days! BRING BACK THE RED HAIR!!! I think she should be deemed in Hollywood "the freshman who tries too hard."
__________________________________________________
I usually hate blind items, but this one was CLASSIC.

This American film actress likes to spend much of her time in UK - but doesn't know her husband is shagging half of London behind her back. A conquest claims that as he climaxed he once shouted, "I love you, my dick love you, I wish I could rip my dick off and give it to you."
So romantic! Speculations go out to
Chris Martin
and
Gwyneth Paltrow
. Personally, I think "my dick love you" is more romantic than any song by
Coldplay
.
__________________________________________________
Michael Jackson never ceases to freak the hell out of me. Recently, he rented out a water park in Dubai so children and parents could "have fun for free" aka SO HE COULD TOUCH THE CHILDREN WHILE FULFILLING HIS KINKY S&M LYCRA FETISH!

Kanye West is the only thing stopping Mimi from being even further emancipated and achieving 17 number one singles. Kanye doesn't care about her emancipation! But his momma done found his $500 porn bill!

Brad Pitt fans rejoice! The Aniston-heartbreaker is going to be filming a looooong nude scene for his upcoming film The Assassination of Jesse James. I can only hope that I look that good when I'm 41.

The dude that hacked Paris Hilton's sidekick fessed up and is now facing 11 months in a juvenile facility. First off, juvenile facility? Yes...THE KID WAS ONLY 17! Well, his 11 months was well worth it for me to prank call Samantha Ronson (sung the love song from Mean Girls), who was probably too obscure to change her number.
Aaron Carter is setting up to bring us the next "Hollaback Girl". The kid is working with Pharrell Williams the moment he hits 18 years. I pray with all my heart that his next single is "That's How I Beat Shaq" (Part Two).

OK, the people over at Broadway have lost their minds...There is talk of Shrek: the musical! and I am frightened. Their reasoning has something to do with the success of The Lion King and Beauty and the Beast...I'm kind of hoping that they take out all the humorous elements of Shrek and make it a serious operatic show. Ok, so it doesn't end there...But I'm a Cheerleader!: the musical! is going up this weekend and the weekend that follows. Lesbians!

Be prepared. A few months from now, whenever we talk about Jessica Simpson on here...you may just see Jessica. She's totally going the Diddy route and dropping a few syllables. Okay, but this isn't the important part. I mentioned her first single "Fired Up" (her version of "Dirrty") earlier and posted a link to a shitty preview of it. Get this though...there was a meeting to discuss the video and she said she wants it to be "slutty and hot(ter than Slave 4 U)". When told that this would be inappropriate seeing that she's married, she replied, "Oh, who cares what Nick thinks! This is my single...my video!" She wants to be wanted by men's magazines, lusted after...but if you ask me the girl just has some serious self-esteem issues. Hoes!

Just look at this list. It'd make Justin proud.


Pop singer
Anastacia
on
Elton John
's
upcoming wedding
:
"I wanna be his frickin' orchid-throwing flower bitch! I'd hold his train. I'd hold both their trains because you know those bitches will be wearing trains."
I think I need not say more.
__________________________________________________
If someone get's a video of this, I might cry in the good kind of way. Diddy done taught Martha Stewart how to rap. Her flow is actually pretty tight if you ask me.

"It's Miss Martha from Jersey City / I'll bake you a cake and make your crib look pretty / I gets mad respect like my man, big Diddy...They thought they could stop me, but they must be silly. I got my ankle bracelet off, now I'm free like Willy / It's the K-Mart queen so I know you feel me / They gave me love on the inside, that's why they call me M Diddy."
I hope she makes an appearance on his next album...