Are you ready for this? Are you ready? Yes? I don't believe you! Ok, so maybe I do.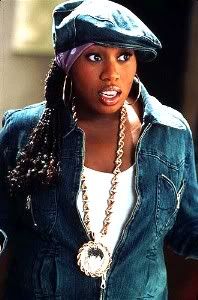 I know some of our readers are
Junior Senior
fans, so why not give you a little bit of the new stuff...
Junior Senior

- Take My Time
If you're still stuck on "Lovefool" wondering "
what ever happened to

The Cardigans

?
"...please note that they're still around and will be releasing this single shortly. I really really love it and it's very very different from what some of you may remember The Cardigans to be.
The Cardigans

- I Need Some Fine Wine and You, You Need to be Nicer
For the hip-hop heads...or those of us who love really ridiculous dirty songs with very little substance, feel free to check out
Shawnna
'a new single. You may remember Shawnna from such classics as
Ludacris'
(the Dr. Seuss of our time)
"What's Your Fantasy?"
Well, now she has a song about getting head that has absolutely nothing to do with getting head. Listen to the verses...Is it just me, or is the chorus entirely for the wrong song??? Shawnna...where is your consistency!?!?
Shawnna

- Gimme Some Head (Explicit)
Shawnna

- Gimme Some (Clean)
For the emo kids, here's a new track from
The Juliana Theory
. It's a bit intense if you're the kind of person who grew to like them through
Emotion is Dead
. Still...it's definitely something you can rock out alone to on a stressful day. I promise...And yes, I
did
listen to the Juliana Theory in my emo days. Get over it!
The Juliana Theory

- We Make the Road By Walking
I never really got into My Morning Jacket, but this is a little somethin' from their upcoming release...
My Morning Jacket-

Anytime
Kudos to ben for many of these links...
I really wanted to see the new
Franz Ferdinand
video, but the link on
shitparade
didn't work...oh poop! Thankfully, I found a downloadable link on
stereogum
. The first comment says that "It's good to see them showing something that resembles personality". I totally agree.
Franz Ferdinand

- Do You Want To (Video)
The new
Grandaddy
CD
Excerpts from the Diary of Toddzilla
not only has the best title in life, but also sounds like it's going to be awesome...
Grandaddy

- Pull the Curtains
I totally can't wait for the new
Michael Lohan
single
!
Put you on the counter by the buttered rolls,
Joe John