So there seems to be some hype about this girl right here...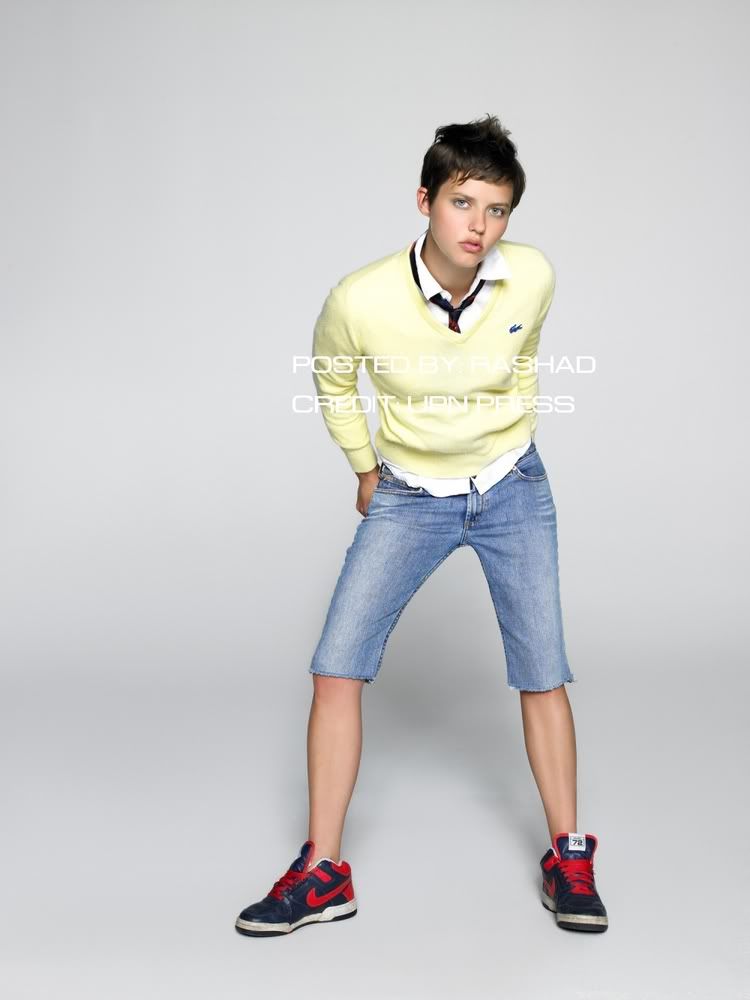 SO HOT.
How can you join in this hype? By making your support of
Kim Stolz
public! That's right kids...for the low price of $5 I'm selling "We Love Kim" bracelets. They should hopefully be available before the debut of
America's Next Top Model: Season Five
on September 21.
100% of profits will go towards chemotherapy treatments for
Kimberly Rama
, my 6 year-old cousin who has been diagnosed with an inoperable tumor named alveolar rhabdosarcoma (a rare children's cancer). Kimberly is one of two adorable twins and one of five children of
Gail Rama
(a teacher in Carmel, NY) and
Mike Rama
(a detective in NYC).
SO CUTE.


By the way, you can totally just buy a bracelet even if you just think my cousin is cute and don't care about ANTM. But if you don't care about ANTM, I don't know why you're even reading this. Kim Stolz was totally in

Entertainment Weekly

and I did a shitty scan of it for you. Go read it in the supermarket if you want to know what it actually says. Basically, she's one of the four girls they're placing their bets on. Oh, and here are full-size pictures of all the models. If you haven't watched the preview and audition tapes, get on that shit. My favorite line from any of the previews...



"I work at the Dexter Dairy Queen. I AM the Dairy Queen. And you know what? I already have people ordering for a next top model, and they're ordering ME."

- Kyle

___________________________________________


Hilary Duff

totally stopped eating french fries. I'd appreciate how much of a role model she was, except for the fact that all I wanted to do after reading that article was eat french fries. Sure enough, I went to McDonalds at 3am thanks to Ms. Duff. Oh yeah, congrats or something for a number one album.



NSFW

(includes boobies):

Ashanti

's sex tape? I don't really even see how anyone can tell that this is her.



Edward Scissor Hands

...the ballet? I still don't understand where he got the large ice blocks from at the end of the movie. Stupidest ending ever.

Remember

Tahj Mowry

? He was the

Smart Guy

...or Michelle's friend Teddy on

Full House

. Now, he's totally a pimp.

Are you ready for

the best two hours of your life involving homosexual cowboy love

? Luckily, you don't have to go to the adult video store for that...because

Brokeback Mountain

featuring

Heath Ledger

and

Jake Gyllenhaal

isn't too far away. Here is the trailer.

When

Destiny's Child

started it was

Beyonce

,

Kelly

,

LeToya

, and

LaTavia

...and now Destiny's Child is just no more. After being booted from the group and having a failed side-project,

LeToya Luckett

is going solo with the help of (who?)

Mike Jones

and

Jermaine Dupri

. It is sure to do better than both of

Michelle Williams

' solo albums. In other news,

Kelly Rowland

seriously cannot wait to get her some chicken-fried steak.

I know you're probably more excited about the new European trailer for

Harry Potter and the Goblet of Fire

...the Yule Ball looks gorgeous. I can not wait! On another trailer note, the new

RENT

one is out too.

Things you have the internet to thank for: being able to play with

Jessica Simpson

's animated bikini-clad ass for as long as you want.

___________________________________________



TUNES!



Pitchfork gave

Twin Cinema

a 9.0...Holy Shit.


The New Pornographers

- Sing Me Spanish Techno


The New Pornographers

- The Bones of an Idol


The New Pornographers

- Twin Cinema


The New Pornographers

- Use It

Ok, so

Extraordinary Machine

won't be out until October 4th, but you can get an idea of what the songs will be like from this rough mp3 of...


Fiona Apple

- Extraordinary Machine
or this video...


Fiona Apple

- Not About Love

Fiona is being produced by Jon Brion, but she's not the only one. Check out some new Kanye...


Kanye West

- Touch the Sky


Kanye West

- Drive Slow


Kanye West

f/

Jay-Z

- Diamonds from Sierra Leone (Remix)


Kanye West

- Gone (f/

Camron

&

Consequence

)


Kanye West

- Heard Em Say f/

Adam Levine

of

Maroon 5



Here's the actual mp3 of the new Franz Ferdinand song, because I refuse to post live mp3s of new songs ever...


Franz Ferdinand

- Do You Want To

If you'd like to hear some shitty preview mp3s (features chorus and then a few seconds of the verses) of the new Ashlee Simpson, head this way...


Ashlee Simpson

- L.O.V.E.


Ashlee Simpson

- I Didn't Steal Your Boyfriend
They're no La La...

So, is it just me...or do you also hate when you think some song is really cool only to find out that it sampled something much cooler?

Da Brat

's "Boom! I Fucked Your Boyfriend" is actually originated from...


L'Trimm

- Boom! I Got Your Boyfriend

We're totally, like, back to school or something...and what better to ruin this experience than an mp3 of the worst advertising song ever.


Sir Mixalot

- Baby Got Backpack
Reminder: Baby Got Book video (Double Up A-MEN)


In conclusion, I leave you with this orgasmic image thanks to stereogum...
Indie rock girls are creaming their pants as I type...
I believe it because I ain't never had nobody do me like you,
Joe John