Totesumbrellas is seven posts away from it's 100th post! This occasion is kind of cool, but it requires nowhere near as much celebration as Mimi's emancipation. To celebrate it, I'm going to make a post! RIGHT ON!!!

This edition...
IT GIRLS--MUSIC IS FOR LOVERS--MOVIES AND TELEVISION--HARRY POTTER LIKE WHOA--TUNES
____________________________________________________
"IT" GIRLS

Give Lindsay Lohan a break! She just went through puberty, like...last year. She needs to eat healthy and exercise because her body went through changes and she's not a girl, not yet a woman! OK??? So stop selling the Feed Lindsay shirts already!!!

So Jessica Alba won't get naked on film but she'll snog a monkey??? Where is the justice in this world!?! Jessica, need I remind you that you hate animals. Like that time you punched a shark...IN THE FACE. Yeah, I went there! OH, and did you think that if you stopped being so damn hot, that they'd stop giving you scripts where you're naked in the shower touching your nipples in the first five minutes? GOSH, you're hogging all the hotness! By the way, I have a script for you where you play a teenage prostitute from outer space with a whip who wears a French Maid costume 24/7 and is required to engage in lesbian sex to sustain life on her planet...are you in?

While Jessica is keeping her clothes on, Sarah Michelle Gellar is showing desire to do the opposite.

The best revenge to people forgetting you when they're famous is to sell the old love letters and toilet paper birthday cards they gave you when you were 15. Classy Jennifer Aniston. Classy.
____________________________________________________

MUSIC IS FOR LOVERS!
The gig is up! We know why terrorists attacked on 9/11. It was all part of an elaborate plan to destroy the album sales of Glitter by Mariah Carey. So many lives were lost...and I bet J. Lo was behind it. Let's also discuss how Glitter is the only Mimi album not sold in the iTunes music store. How am I gonna function without hits such as "I Didn't Mean to Turn You On" and "Don't Stop (Funkin' for Jamaica)"?

Chris Martin of Coldplay, the worst band to ever have a number one album, has been voted the world's sexiest vegetarian in a PETA poll. Um, when they said Chris Martin...did they mean Tom Martin?

Logan Starr? Is that you second from the left in the new Lou Pearlman boy-band US-5??? No, this photo wasn't photoshopped at all. It's for real. And yes. The boy-band concept might be back to some degree. Watch their video that includes the words "senorita" and "mamma mia"...

Kanye West is apparently the saviour of hip hop and pop music today. He single-handedly died for our sins and rose again, so we could be graced with such lyrics as "there's a party tonight, and ooh she so excitied, tell me whos invitied, you, your friend, and my dick." No truer poetry was ever spoken.

Peace the spork out to Ginger Spice's wax sculpture.

While Will Smith is busy gettin' jiggy with it, Jada Pinkett-Smith ain't just sittin' in the kitchen makin' him some meatloaf. I remind you that she's out performing with her Christian metal band, Wicked Wisdom...at Ozzfest.

P. Diddy isn't going to be P. Diddy the next time you see him. Sean Combs aka Puff Daddy aka Puffy for short aka P. Diddy aka Diddy for short is changing his name...again. Why P. Diddy? "Because I can". Look out, the only other person who went through all these name changes was Ol Dirty Bastard aka Big Baby Jesus aka Dirt McGirt aka Dirty...and look where he wound up. Dead.

Someone explain to me why John Mayer is so high on this list...

So Michael Jackson...Immortal? I sincerely hope not.
____________________________________________________

MOVIES & TELEVISION!
"I didn't even think she was all that Raven after all, I mean...she was kind of Raven, but not SO Raven...you know???"- The paparazzi doesn't care about Raven (Symone) at all. On her 19th birthday, ONE paparazzo showed up. I love how the article tries to come up with excuses of why she's unpopular with the media. Um, duh. She doesn't sniff coke or date a member of Good Charlotte.
If you are ugly, strange-looking, albino, or just really short...you just missed your chance to be an extra in X-Men 3. Sorry.

Mel Gibson is INSANE.

Let's talk about this movie. Reese Witherspoon? Mark Ruffalo? Jon Heder not being Napoleon? Ghosts? Director of Mean Girls and Freaky Friday? MARK RUFFALO??? This is a romantic comedy that will change my life.

This movie will not even have the opportunity to change my life because I refuse to see it. Aaron Carter is starring in a movie about a popstar who has to go back to high school and falls in love with the smart girl...Trailer.

Billy Bob Thornton may be a tough ass Bad News Bear, but he still could never sit through Mad Hot Ballroom without peeing his pants with fear.

Haley Joel Osment- Let's hope he's part of the Class of 2010. He's humongous!

Best. Headline. Ever.

Alan Cumming's "Cumming: The Fragrance" is about the funniest thing that's ever happened to me. Watch him strip down in the commercial and make various jokes about his name. This is a MUST SEE.

George Clooney is dating a porn star. Because he can.
____________________________________________________
HARRY POTTER LIKE WHOA!

Hey, are you done with Half Blood Prince? Longing for more of that luscious being Harry Potter? This is my post-sixth book plan, in seven steps...you know why if you've finished.

1- Have you never heard of Wizard People, Dear Reader? Basically, some random dude created an audio file of himself narrating the entire first movie (Harry Potter and the Sorceror's Stone). Here's what you do...Download the audio track. Burn it to CD. Turn your TV on mute. Synchronize the movie with the audio. Proceed to either laugh or die because of how annoying this man's voice is.

2- HPANA.com, nuff said. There are enough obsessive fans like you out there. All you have to do is register and spend hours upon hours on their message board making predictions for book 7.

3- You know those "I Kissed Justin!" or "I Did Pharrell Five and a Half Times!" shirts? Want to make fun of tweens and remain the biggest dork in existence. Buy one of these shirts for $12 from me...or make your own. But I'll make you one if you're too lazy, and I'll make it in any color. Let me cater 2 u!
FRONT: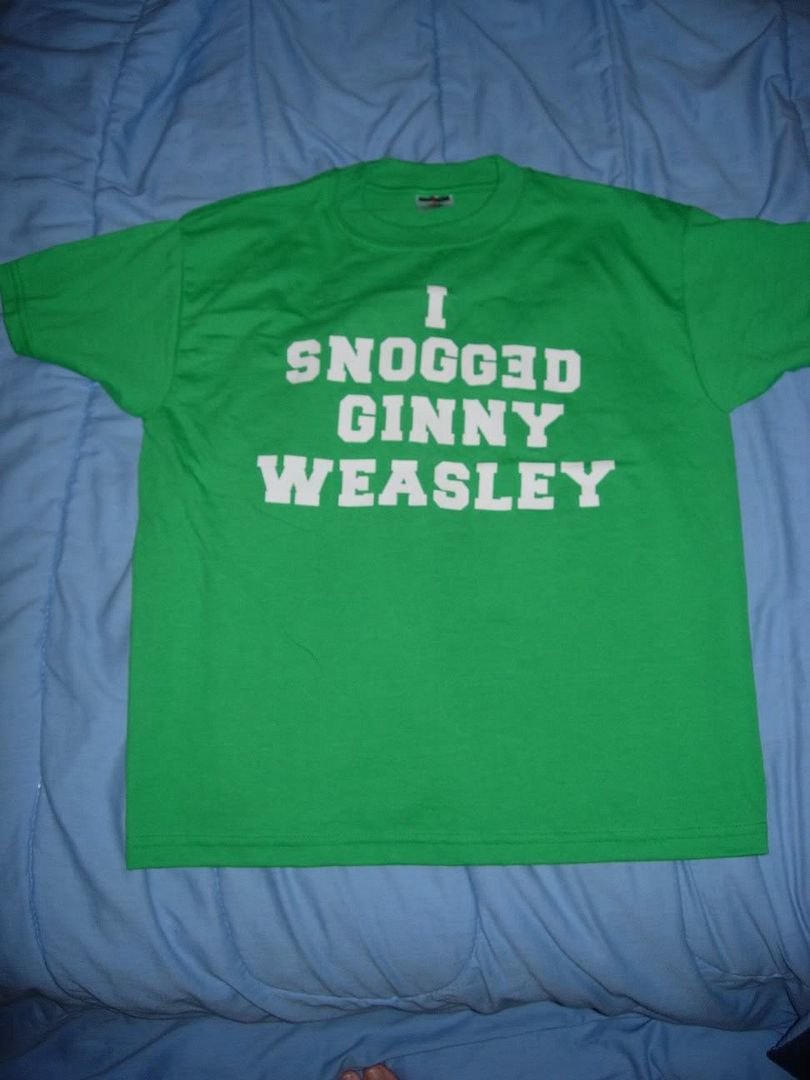 BACK: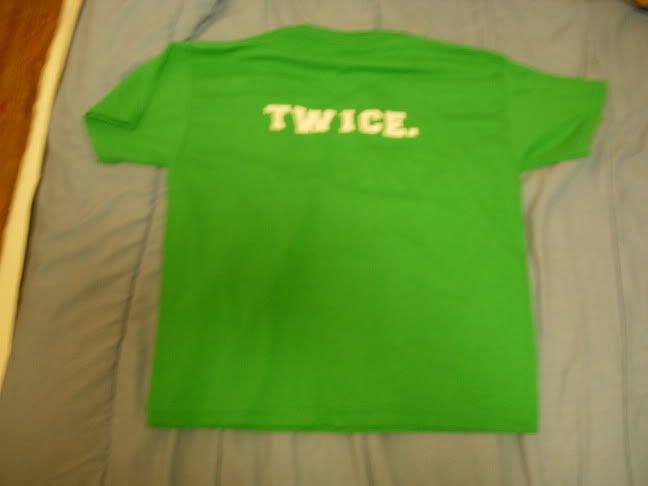 4- Anxiously await the national premiere of this movie.
5- Harry and the Potters, how many times do I have to tell you? They're on a national tour that is getting mad recognition, including USNews.com and Forbes.net. Even stereogum covered it. They're the next Death Cab for Cutie!

6- Write Fan-fiction...while listening to this Mash-Up...and laughing at the Pope because of this.

7- Create a hip-hopera entitled "Trapped in the Cupboard". PS- If any of you make lyrics, you will get the greatest shout out in the history of totesumbrellas.
____________________________________________________